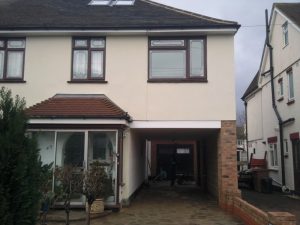 wow take a look at this picture they say a picture to write 1000 words then then the famous painter was right. This local large extension was carried out by Johns brickwork Ltd of Southend-on-Sea Essex the complete build was set to time and budget.
Started at the roof we extended the original front elevation by (half metres we second-hand reclaim tiles from our local supplier is kept matching with existing and complimented the extension if you take a look the roof you will see the new roof windows that we installed to let natural light into the new loft recently extended by us.
We carried on with the rendering to the front and the rear of the property with matching Windows to complement the build underneath the car Port we installed passive infrared security lighting these will turn on at night with dust to Dawn sensors along the large flank wall we have built extension in a nice rustic brick to complement the build to segregate the boundaries we have built and installed a small little boundary wall to the right-hand side the buildings you can see in the picture on each peer contains a little inserted wall lights fully weatherproof and installed by us the benefit of this it would light up the small driveway on approach.we think regular grievous this is a fantastic extension with the benefit of two bedrooms a shower room combined taller the breakthrough was the existing staircase behind the wall to reach this level when we opened it up onto the new extension.
All the internal walls received a fresh coat plaster including the ceilings the installation of three new doors with fully lockable mortise locks  all skirting boards and architraveswhy supplied by a local carpenter.
This build was completely inspected independently by the local borough build Inspector of Southend-on-Sea Essex to which all the relevant stages were duly signed off on past by then to which means we have met before their building criteria is this is your total reassurance that the job was carried out and complied fully with building regulations upon completion in due course the client will receive a full habitation certificate for the local borough council for their project is been a pleasure to carry out the above works and we hope that the client and their family will intimate venue improved much larger.
All the work carried out by Johns brickwork Ltd of Southend-on-Sea Essex we would like to take this opportunity to thank all their existing clients for choosing us to carry out their works and projects OF THIS YEAR