Loft Conversion Types
Do I need planning permission for my loft conversion?

There are many different types of loft conversions, not all of them will require planning permission. At John's Brickwork we can advise you on the best type for your home and the logistics involved. We have listed below the different styles of loft conversions and with our years of experience we can help you create a loft conversion to suit you and your family:-
"Roofline" loft conversions
A roofline conversion is probably better known as a Velux loft conversion, this type of conversion uses the existing space in your loft. Room(s) can be created within the space you already have using Velux windows to bring in light and ventilation. There is no extending or alterations of the roof space you have and therefore no planning permission is normally required. You will require a set of plans to be drawn up for a roofline conversion along with a Structural Engineer's report, this is absolutely necessary so that everything is compliant with current building regulations.
"Dormer" loft conversions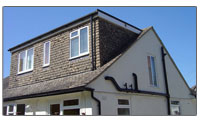 A Dormer conversion can also be called a Dormer extension, roof extension, Dormer windows, this is a conversion that extends your existing roof shape.

A Dormer conversion is typically where your existing roof is extended to the rear of your house, thus creating a roof extension.
Depending on your permitted development allowance (which is measured in cubic metres) will depend on the size of your Dormer conversion, not all Dormer conversions require planning permission but we can advise you of that during our site visit. We can also calculate the amount of space you will be allowed to develop, this is usually around 50-70 cubic metres or 20% of your overall property volume.
Mansard

A mansard roof extension maximises the space available within your loft, they are more common on older properties and will almost certainly require planning permission.

Mansards are usually built by raising party walls either side of your home, this is known as the profile, the mansard is then created out of timber frame. As we have said earlier, this really is more common in older properties and most typically in London or where houses are in a conservation area. Again, we can advise you if this is the right structure for your property.