Building Services
Conversions, Patios, garden walls to barn conversions or new build - whatever you need in brickwork, John Cann Help.
At John's Brickwork we provide a free no obligation quote, and a price that is competitive but fair. We can provide the brickwork you need for a conversion, garden wall, barn conversion, new build or garden walls, brickwork is our speciality, whatever your needs John's Brickwork can help.
We offer a complete service from a consultation to completion, we can give you our own thoughts and ideas or work from your own ideas you may have.
John's Brickwork provides you with high quality standards and brickwork that will last for many years to come.
The full range of our brickwork services include:-
Our range of brickwork services includes
Barn conversions
Building foundations
Driveways
Garages
Driveways
New homes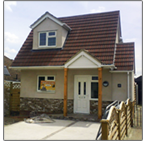 At John's Brickwork we are highly experienced and will ensure standards of the highest quality. John's Brickwork, are highly experienced bricklayers who can cater for all domestic and commercial needs.
Give us a call at John's Brickwork and let us provide you with good quality from reliable tradesman which is fully guaranteed giving you complete peace of mind.
Let John's Brickwork, do your brickwork. You can be assured of quality, reliable, guaranteed work from Essex's best building company.
Call 07449 792998